Updated July 31, 2023
Greetings from Knoxville, Tennessee!
Historic Knoxville, named for Henry Knox, sits alongside the Tennessee River 🏞️ near the Great Smokey Mountains. Home of the University of Tennessee and the Vols 🏈.
The Community of Knoxville, Tennessee
Knoxville is a city in and the county seat of Knox County in the U.S. state of Tennessee.
As of the 2020 United States census, Knoxville's population was 190,740, making it the largest city in the East Tennessee Grand Division and the state's third largest city after Nashville and Memphis.
Knoxville is the principal city of the Knoxville Metropolitan Statistical Area, which had an estimated population of 869,046 in 2019.
First settled in 1786, Knoxville was the first capital of Tennessee. The city struggled with geographic isolation throughout the early 19th century. The arrival of the railroad in 1855 led to an economic boom.
The city was bitterly divided over the secession issue during the American Civil War and was occupied alternately by Confederate and Union armies, culminating in the Battle of Fort Sanders in 1863.
Following the war, Knoxville grew rapidly as a major wholesaling and manufacturing center.
The city's economy stagnated after the 1920s as the manufacturing sector collapsed, the downtown area declined and city leaders became entrenched in highly partisan political fights.
Hosting the 1982 World's Fair helped reinvigorate the city, and revitalization initiatives by city leaders and private developers have had major successes in spurring growth in the city, especially the downtown area.
Knoxville is the home of the flagship campus of the University of Tennessee, whose sports teams, the Tennessee Volunteers, are popular in the surrounding area.
Knoxville is also home to the headquarters of the Tennessee Valley Authority, the Tennessee Supreme Court's courthouse for East Tennessee, and the corporate headquarters of several national and regional companies.
As one of the largest cities in the Appalachian region, Knoxville has positioned itself in recent years as a repository of Appalachian culture and is one of the gateways to the Great Smoky Mountains National Park.
Neighborhoods
Knoxville is roughly divided into the Downtown area and sections based on the four cardinal directions: North Knoxville, South Knoxville, East Knoxville, and West Knoxville.
Downtown Knoxville
Downtown Knoxville traditionally consists of the area bounded by the river on the south, First Creek on the east, Second Creek on the west, and the railroad tracks on the north, though the definition has expanded to include the U.T. campus and Fort Sanders neighborhood, and several neighborhoods along or just off Broadway south of Sharp's Ridge ("Downtown North").
While primarily home to the city's central business district and municipal offices, the Old City and Gay Street are mixed residential and commercial areas.
If you're looking for a vibrant city with plenty of activities and culture, then Downtown Knoxville, Tennessee is the place for you. Located in the heart of the city, Downtown Knoxville is home to an abundance of restaurants, museums, shops, and entertainment venues. Downtown Knoxville has something for everyone, making it a great place to live.
One of the best things about living in Downtown Knoxville is its walkability. With so many places to explore, you'll never be bored. From the historic downtown area to the University of Tennessee campus, there's plenty of places to explore. And with the convenient public transportation system, getting around town is a breeze.
Downtown Knoxville is home to a wide selection of restaurants and eateries. From upscale dining to casual cafes, there's something for every craving. Plus, you can find plenty of cultural attractions, like the Knoxville Museum of Art, the Tennessee Theatre, and the Women's Basketball Hall of Fame.
When it comes to shopping, Downtown Knoxville offers plenty of options. From local boutiques to national chains, you'll find everything you need. Plus, there's a great selection of farmers markets.
South Knoxville
South Knoxville consists of the parts of the city located south of the river, and includes the neighborhoods of Vestal, Lindbergh Forest, Island Home Park, Colonial Hills, and Old Sevier.
This area contains major commercial corridors along Chapman Highway and Alcoa Highway.
South Knoxville is a neighborhood in Knoxville, Tennessee, situated south of the Tennessee River and is connected to downtown Knoxville through Chapman Highway.
It is an older part of the city and has several outdoor recreational activities available, such as mountain biking, kayaking, paddle boarding, and walking trails.
It is a dog-friendly neighborhood with a dog park in development. The urban wilderness in South Knoxville has miles of trails, including bike trails and a Baker Creek play area for kids.
South Knoxville has a private airport and has several marble quarries that developed due to the region's outcroppings of Tennessee marble. These quarries have formed naturally beautiful rock pools, which are free to access.
South Knoxville has a thriving market, which may make it hard to get into, but real estate agents can help with finding a suitable house.
The neighborhood also has a waterfront development along the Tennessee River, where Regal Cinemas and Saturday Landing Park are located.
The neighborhood is close to downtown Knoxville and has several charming local breweries and food trucks.
If you're on the hunt for a lively city that's bursting with activities and culture, then South Knoxville, Tennessee is the spot for you.
Tucked away south of downtown, South Knoxville boasts a plethora of restaurants, museums, shops, and entertainment venues that are sure to keep you on your toes.
Whether you're into foodie adventures, museum-hopping, or shopping sprees, you'll find plenty to do in this charming neighborhood.
One of the best things about living in South Knoxville is how easy it is to get around. The area is super walkable, so you can take your time exploring the historic downtown area or meandering around the University of Tennessee campus.
And if you're not feeling up for a stroll, the public transportation system is top-notch, making it a breeze to zip around town.
Now, let's talk about the food scene. South Knoxville is home to a diverse array of restaurants and eateries that cater to all tastes and budgets.
Whether you're looking for a fancy night out or a quick bite at a cozy café, you're sure to find something that hits the spot.
And if you're a culture buff, there are plenty of must-visit spots, like the Ijams Nature Center and the Tennessee Valley Railroad Museum.
If shopping is your jam, you're in luck. South Knoxville is chock-full of options, from trendy local boutiques to big-name chains.
There are also plenty of farmers markets, antique stores, and vintage shops to explore, so you're bound to stumble upon some hidden treasures.
Last but not least, South Knoxville has no shortage of activities to keep you entertained.
From sprawling parks to bustling nightlife, there's always something happening in this vibrant neighborhood. So if you're in the market for an exciting new place to call home, give South Knoxville a try!
West Knoxville
West Knoxville generally consists of the areas west of U.T., and includes the suburban neighborhoods of Sequoyah Hills, West Hills, Bearden, Cumberland Estates, Westmoreland, Suburban Hills, Cedar Bluff, Rocky Hill, and Ebenezer.
This area, concentrated largely around Kingston Pike, is home to thriving retail centers such as West Town Mall and Turkey Creek.
Living in West Knoxville, Tennessee has a lot to offer its residents. Located just minutes from downtown Knoxville, West Knoxville offers a suburban lifestyle that is close enough to the city to enjoy the amenities but far enough away to enjoy the peace and quiet of the neighborhood.
The neighborhoods in West Knoxville are some of the best in the city. Most are well-maintained, offering access to great amenities such as swimming pools, tennis courts, parks, playgrounds, and more. Plus, the area is home to many shopping centers, restaurants, and other attractions.
The schools in West Knoxville are highly rated and offer excellent educational opportunities. Whether you're looking for a public or private school, there are plenty of options to choose from. Plus, several universities and colleges are located in the area, making it a great place to pursue higher education.
West Knoxville is also known for its strong sense of community. From neighborhood gatherings to community events, there's always something going on to bring neighbors together. The area is also home to many churches, giving residents plenty of options for spiritual growth.
The cost of living in West Knoxville is also very affordable. The area offers a wide range of housing options, from single-family homes to apartments and condos. The median home price in West Knoxville is around $290,000, which is much lower than the average in Knoxville.
Overall, living in West Knoxville is a great choice for those looking for a suburban lifestyle with easy access to downtown Knoxville. With its excellent schools, strong sense of community, affordable housing, and many other amenities, West Knoxville is a great place to call home.
East Knoxville
East Knoxville consists of the areas east of First Creek and the James White Parkway and includes the neighborhoods of Parkridge, Burlington, Morningside, and Five Points.
This area, concentrated along Magnolia Avenue, is home to Chilhowee Park and Zoo Knoxville.
Living in East Knoxville, Tennessee offers the best of city living with a small-town feel. East Knoxville is an up-and-coming area that is full of culture, entertainment, and great opportunities.
East Knoxville is an affordable place to live. The cost of living is lower than in the surrounding areas, so you get more bang for your buck. There is a wide range of housing options, from single-family homes to apartments and condos, so you can find something to fit your budget.
The area is full of things to do. From popular festivals and events to local businesses, there's something for everyone. The restaurants in East Knoxville offer a variety of cuisines to explore, such as classic Southern cooking, Mexican, Italian, and much more. There are also plenty of parks, recreation centers, and entertainment venues to keep you busy.
East Knoxville is a safe and welcoming place. The community here is close-knit and friendly, and there are plenty of ways to get involved and meet people. The schools in the area are highly rated, so you can feel confident sending your children to quality education.
East Knoxville is a great place to call home. The combination of affordability, culture and safety makes it an ideal place to live. With so much to do and explore, you won't be bored living in East Knoxville.
North Knoxville
North Knoxville consists of the areas north of Sharp's Ridge, namely the Fountain City and Inskip-Norwood areas. This area's major commercial corridor is located along Broadway.
Living in North Knoxville, Tennessee has its advantages and disadvantages. But overall, it's a great place to call home.
North Knoxville is a vibrant, diverse neighborhood with a variety of activities and attractions. The area is close to downtown Knoxville, making it easy to get to the city's many attractions, such as the Knoxville Zoo, the Women's Basketball Hall of Fame, and the World's Fair Park. Additionally, the University of Tennessee is only a few miles away, giving residents easy access to its sporting events, lectures, and performances.
North Knoxville is also home to various museums, parks, and restaurants. The Knoxville Museum of Art and the Beck Cultural Exchange Center are great places to explore the city's art and culture. Additionally, the Lakeshore Park and the Third Creek Greenway offer plenty of outdoor activities for residents to enjoy. And for those who love food, North Knoxville has a variety of restaurants, from classic Southern fare to international cuisines.
The cost of living in North Knoxville is also quite affordable. The area is home to a variety of housing options, from single-family homes to apartments. Additionally, property taxes are relatively low, making it an attractive option for those looking to purchase a home.
Overall, North Knoxville is a great place to call home. It offers a variety of activities and attractions, affordable housing, and plenty of places to eat. Residents enjoy the convenience of being close to downtown Knoxville while still having the comforts of a small town. Whether you're looking for a place to raise a family, or just looking for a place to call home, North Knoxville is an excellent option.
History
More coming soon.
Knoxville, TN Real Estate Trends as of June 2022
Affordability of Living in Knoxville, TN
The typical home value is $331,796
Homes are typically worth $195/sqft
In June, 2022 the average home was on market for 14 days
Average Home Value in Knoxville, TN, by Home Size
| | |
| --- | --- |
| Home Size |  Home Value |
| 1 bedroom | $179,952 |
| 2 bedrooms |  $212,606 |
| 3 bedrooms | $323,469 |
| 4 bedrooms | $487,206 |
Current Market Statistics
498147.17,500175.05,506376.94,519393.00,532557.45,572253.67,574913.87,587416.60,602998.30,615527.77,666072.95,659976.34
Information is deemed to be reliable, but is not guaranteed. © 2023
Listings in Knoxville, Tennessee
The data relating to real estate for sale on this Web Site comes from the IDX Program of the Knoxville Area Association of REALTORS® Multiple Listing Service. © Copyright 2020 All rights reserved.IDX information is provided exclusively for consumers' personal, non-commercial use, it may not be used for any purpose other than to identify prospective properties consumers may be interested in purchasing, and that the data is deemed reliable but is not guaranteed accurate by the MLS. This information is updated weekly, however, some of these properties may subsequently have sold and may no longer be available. The Real Estate Broker providing this data believes it to be correct, but advises interested parties to confirm the data before relying on it in a purchase decision.
---
---
2022 Cost of Living Calculator:
Brentwood, California vs Knoxville, Tennessee
Comparison Highlights
Overall, Knoxville, Tennessee is 48.2% cheaper than Brentwood, California
Median Home Cost is the biggest factor in the cost of living difference.
Median Home Cost is 69% cheaper in Knoxville.
---
Geography
Topography
Downtown Knoxville, with the Great Smoky Mountains rising in the distance, viewed from Sharp's Ridge
Discover the Natural Wonders of Knoxville, TN
Knoxville, TN is a beautiful city nestled in the Great Appalachian Valley, surrounded by the majestic Great Smoky Mountains to the east and the Cumberland Plateau to the west.
Let's take a closer look at the geography of Knoxville and the natural wonders that make it a must-visit destination.
Land and Water Area
The city has a total area of 104.2 square miles, of which 98.5 square miles is land and 5.6 square miles, or 5.42%, is water.
That means you'll have plenty of space to explore, whether you're interested in hiking, biking, or water sports.
Elevation
Knoxville's elevation varies from just over 800 feet along the riverfront to just over 1,000 feet on various hilltops in West Knoxville.
The downtown area rests at just over 900 feet. High points include Sharp's Ridge in North Knoxville at 1,391 feet and Brown Mountain in South Knoxville at 1,260 feet.
If you're looking for a more challenging hike, House Mountain, the highest point in Knox County at 2,064 feet, is located just east of the city near Mascot.
Appalachian Valley and Ridge-and-Valley Appalachians
Knoxville is situated in the Great Appalachian Valley, also known locally as the Tennessee Valley. The valley is part of a sub-range of the Appalachian Mountains known as the Ridge-and-Valley Appalachians, characterized by long, narrow ridges flanked by broad valleys.
Some of the prominent Ridge-and-Valley structures in the Knoxville area include Sharp's Ridge and Beaver Ridge in the northern part of the city, Brown Mountain in South Knoxville, parts of Bays Mountain just south of the city, and parts of McAnnally Ridge in the northeastern part of the city.
Tennessee River and Tributaries
The Tennessee River, which slices through the downtown area, is formed in southeastern Knoxville at the confluence of the Holston River, which flows southwest from Virginia, and the French Broad River, which flows west from North Carolina.
The section of the Tennessee River that passes through Knoxville is part of Fort Loudoun Lake, an artificial reservoir created by TVA's Fort Loudoun Dam about 30 miles downstream in Lenoir City.
Knoxville is also home to several notable tributaries of the Tennessee River, including First Creek and Second Creek, which flow through the downtown area, Third Creek, which flows west of U.T., and Sinking Creek, Ten Mile Creek, and Turkey Creek, which drain West Knoxville.
Conclusion
Knoxville, TN is a city that truly has it all. With its stunning natural beauty, varied elevation, and unique geological formations, it's no wonder that Knoxville is such a popular destination for outdoor enthusiasts and nature lovers. Whether you're planning a weekend getaway or a longer vacation, be sure to add Knoxville to your list of must-visit destinations.
Oh yeah, it's a great place to move to!
Climate
What's the weather like in Knoxville?
Well, it's definitely got some heat to it! The summers can get pretty hot and humid, with temps averaging around 78.4 °F in July.
And if you're not a fan of the heat, watch out, because there's an average of 36 days per year where the temps reach 90 °F or higher.
But don't worry, things cool down a bit in the winter. You can expect some cooler temps and occasional snowfall, although it's usually not too much.
January averages around 38.2 °F, and there's usually at least one day each year where the high doesn't make it above freezing.
The highest temperature ever recorded in Knoxville was a whopping 105 °F back in 2012. Yikes! 🥵 And on the flip side, the coldest it's ever been was −24 °F, which happened back in 1985.
When it comes to precipitation, Knoxville gets an average of just under 48 inches of rain each year.
And if you're hoping for a winter wonderland, you might be disappointed – the normal seasonal snowfall is only around 4.6 inches, with most snowfall occurring in January and February.
The biggest one-day snowfall on record was 17.5 inches, which happened way back in 1960.
Parks and Recreation
There are loads of great parks in the Knoxville area. We will be adding more as time passes.
The Everly Brothers Park
In October of 2022, Libby, Ken, and their faithful dog Barbie took a visit to the Everly Brothers Park.
The pocket park connects to the Bearden Village Greenway at the corner of Kingston Pike and Forest Park Boulevard. Gorgeous landscaping is inside the park and sumac trees decorate the outside.
A stage, seating, pathways, tributes featuring famous musicians' words about the Everly Brothers, and a remarkable art piece make this place a great addition to the city and an attractive place to visit.
Phil Everly was one of my great heroes, and with his brother Don, they were one of the major influences on the Beatles. When John and I first started to write songs, I was Phil and he was Don."
– Paul McCartney
In the Paul McCartney song "Let 'Em In", Paul mentions Phil and Don of the Everly Brothers. A wonderful tribute to his heroes.
Without the Everly Brothers there might not have been The Hollies or Crosby, Stills and Nash.
They were our vocal heroes."
– Graham Nash
Honorary Park Chairman
In September 2022, a Tennessee Music Pathways marker was placed to honor the influence of the Everly Brothers in the music industry.
Everly Brothers Park
4635 Kingston Pike
Knoxville, TN 37919
Directions: From I-40, take exit 383 onto Papermill Road; follow signs for Northshore Drive; turn left onto Kingston Pike; in 1.2 miles turn left onto South Forest Park Blvd.
World's Fair Park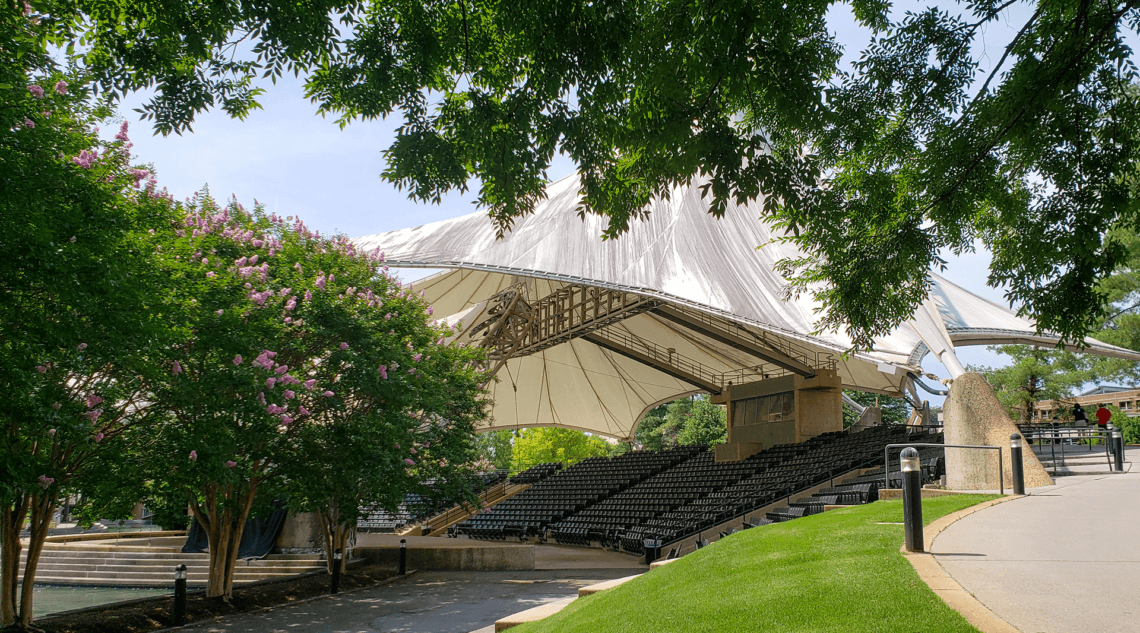 Knoxville, Tennessee is home to the public park known as World's Fair Park. The park sits on the former fairgrounds of the 1982 World's Fair hosted in Knoxville. Presently, the two structures that have stood the test of time from the exposition are the Sunsphere and Tennessee Amphitheater, which are situated in the park.
This park was incredibly cute, featuring four slides and a tall tower with ladders and ropes to navigate. What's more, there is a huge silver slide at the peak of the tower. A great addition to the downtown area!!
But there's more to the park than just a playground for the kids! There's plenty of fun for adults as well.
The photos of Libby (above) and the birds is a mural at the World's Fair Park.
It is designed for a person to stand like Libby is and then it looks like the birds are being set free. Pretty cool, eh?
Here's a link fully explaining what the painting is about: https://insideofknoxville.com/2021/05/pandemic-memorial-added-to-the-worlds-fair-park/
The Sunsphere, a structure made for the 1982 World's Fair, is one of a kind. The Mikado poster is of a play that Libby's sister starred in!  That poster is at the top of the Sunsphere.
The 4th Floor Observation Deck features a stunning 360-degree vista that reaches from downtown to the Great Smoky Mountains, including World's Fair Park, the Tennessee River and the University of Tennessee Campus.
The Sunsphere glass is now so fogged, some photos just did not come out, but you can still see fairly well through some of them.
Before you go, stop by the World's Fair timeline, gallery, memorabilia and gift shop and bring home a souvenir for yourself or your kids. Have fun!
World's Fair Park
963 World's Fair Park Drive, Knoxville, TN 37916
Phone: 865-215-8160
Location: Downtown Knoxville
James White's Fort
Knoxville's First Home
James White's Fort is the birthplace of Knoxville, Knoxville's first home founded in 1786. The Fort is one of the most visited historical sites in Knoxville. It is a museum home highlighted by the original 1786 residence of James White the founder of Knoxville.
In the early 1780s, James White arrived at the future site of Knoxville. We know him as the founder of Knoxville.
They granted him 1,000 acres of land for his service in the Revolutionary War. White built the first permanent structure, his two-story log cabin, in 1786.
White enclosed the log cabin and other structures with a stockade fence after two years for protection from wild animals.
The Cherokee Indians in the surrounding area considered White a friend. White negotiated several Cherokee and white settler treaties.
White welcomed visitors to his home for peaceful purposes and to conduct business with him. Domesticated animals like horses, cows, pigs, and sheep were kept in the Fort's courtyard as a stable.
The area surrounding the Fort was cleared and used to cultivate vegetable gardens and tobacco crops for both trade and sustenance.
The town of Knoxville was founded when James White partitioned part of his land in October 1791.
Here is Libby touring the facility. Built in 1786, it's in the middle of downtown Knoxville. How crazy is that?
In the photos above you can see some of the artifacts from the fort as well as a glimpse into what life was like in the late 1700s. Click on the images to view full sized.
Here's Ken testing out the stocks. Can you imagine that kind of punishement today?
The deal with the stocks is that they use boards on your neck and wrists. On this one, you can sit, but other types will make you stand.
The victims might get insulted, kicked, tickled, spat on or treated in other aweful ways.
Norris Lake
In May of 2022, Libby and Ken took a short trip to Norris Lake. Although not in Knoxville proper, it is considered a local vacation destination.
Norris Lake is about an hour North of Knoxville and is one of the huge TVA (Tennessee Valley Authority) lakes they have around here.
It is a beautiful lake with quite a variety of fish. Our plan was to relax, explore and do a little fishing from the shore.
We stayed in a nice Air B&B with a deck overlooking the lake and the owner's docks. Barbie and the owner's two chocolate labs became great buddies. They swam and played a bunch!
The fishing from the bank and docks right there was not very successful. We were limited to just that small stretch of beach.
Unlike so many lakes in California, there is very little public land around the lake. It is nearly all private with homes and cabins all around the lake.
We did find out though a short drive would take us to the Chuck Swan State Forest. This is a large state owned wildlife preserve.
Also, on the preserve are quite a number of very old cemeteries from tiny communities that once existed there before the TVA bought all the property, built the dams and filled the lake.
We stopped at a couple of the cemeteries to look. Some of the graves go back to the early 1800's.
The people who lived in that area were subsistence farmers and the communities were very isolated.
There is even an old church dating from the early 1800's that has been preserved and is still used.
There is one main gravel road, and the rest are all dirt or mud depending on how long since it has rained.
We were glad we had 4 wheel drive! Didn't need it that day but would have on other days.
After about a 15 mile drive through the preserve, we came to a picnic area on the shore of the lake.
It was a beautiful site with a long, lovely beach. It looked like excellent smallmouth bass water.
We were the only people there! Of course, Barbie had to swim before we could do any fishing. Once that was over, we proceeded to fish.
It took a little while to find out what the fish wanted. We did catch two nice smallmouths.
I landed one and Libby landed the other. They were good eating size, but we could not keep them because the smallest size you can keep is 18".
These were just short of that, so we threw them back. There are big smallmouth bass in that lake!
The ones we caught were really good fighters too! The structure underwater was perfect for smallmouths but the deeper water where the bigger ones are, is out a ways.
We could barely get our lures past the shelving rock before it dropped off. I know there are big ones in there!
One day we can rent a boat and try it again. Or float tubes would work well there too. Haven't done that in a long time. We shall see.
You can find out more about Norris Lake here.
~ Ken Guthrie
Great Knoxville Restaurants
We like to eat out once a week or so. There are so many excellent restaurants to choose from in Knoxville, it can be hard to choose.
We we are willing to make the sacrifice of trying different eateries. 😜
Below you will find some of our favorites.
The Chop House
A classic American steakhouse located in the Franklin Square shopping center in West Knoxville.
What We Like About It
The interior is very pleasant, especially after a recent remodel.  There are booths and table settings, and the main dining area is partially separated, making it more comfortable than those restaurants with a huge single dining area that feels like a warehouse.
In the Chop House, it's easy to have a conversation.  It is not noisy like so many are now days.
There's also comfortable outdoor seating as well as a quiet, well-stocked bar.
Our Favorite Dishes
Libby likes the Santa Fe Salad.  It's the perfect lunch salad with a bunch of tasty ingredients including grilled chicken.  She loves the southwestern dressing and Pico de Gallo.
Ken likes the Voodoo Chicken Tacos.  Excellent crispy chicken, not so much that it spills out of the taco shell with a spicy aioli sauce and an interesting corn crème Brule on the side.
Address of The Chop House
9700 Kingston Pike
Knoxville, TN 37922
It is located in West Knoxville.
Website
Check out https://www.thechophouse.com/ for all 7 locations in Tennessee, the menu, and more. Visit  https://www.thechophouse.com/knoxville-steakhouse-west.html for information about the location we go to.
Tel: (865) 531-2467
Hours: Mon-Sat 11am-10pm; Sun 10:30am-9pm
Harvest Land, Sea & Vine Restaurant
Harvest is a relaxed contemporary design restaurant and bar with patio dining.
The bar has a modern feel, though quite comfy and open.  There is a view of the restaurant area but there is a pony wall separation of the two areas.
What We Like about the Restaurant
We like that the tables not too close together and there are a number of comfortable booths.  If the weather is nice, you can choose to be seated outside.
The location is very convenient, right on Kingston Pike, the main thoroughfare in this part of town.
We shared 1 dozen oysters on the half shell in celebration of our anniversary.  We have forgotten the variety of oysters but do remember they were from Massachusetts.  They were quite good.
Libby got the deviled eggs appetizer with Benton's Bacon Jam and sumac on top. Ken got a cup of French onion soup.  We shared those.
The deviled eggs were good but a bit sweet for our taste.  The French onion soup was excellent as it always is there.  Not too hot as this dish can be and not too much cheese on top.  Just right!
Address of Harvest Land, Sea & Vine Restaurant
5200 Kingston Pike, Knoxville, TN 37919
Phone: 865-500-2427
Location:
We visited the Bearden location. They have another location downtown at 141 S. Gay Street.
They have live music at both locations. 🤘🏼 Check their Facebook page for times and dates.
Websites
https://harvestknox.com/ – https://harvestknox.com/contact/
Facebook Page: https://www.facebook.com/harvestknox/
Instagram: https://www.instagram.com/harvestknox/
Hours:
Monday:  11 AM to 9 PM
Tuesday to Thursday: 11 AM to 10 PM
Friday: 11 AM to 11 PM
Saturday: 10 AM to 11 PM
Sunday: 10 AM to 9 PM
Smoky Mountain Brewery
The Smoky Mountain Brewery is a great big brew house and restaurant in the popular Turkey Creek shopping district of far west Knoxville. It is a very popular place!
The entrance is located on the front corner of the building and as you enter, you see the very large bar directly in front and the rest of the restaurant to the left.
The bar area flows into the restaurant area which extends quite a way back into the building.  Lots of tables and booths.
There are lots of big TV screens in the bar area playing, mostly sporting events.  The bar, of course, is quite well stocked with a long row of draft beer tap handles.
What We Like About The Restaurant
We like booths and that is where we sat with a view of the bar.  We also liked it that we did not feel squeezed in.  The place was very roomy and clean.
What We Ate During Our Visit
Their beers and ales are well known throughout the Knoxville area and some of them are served in other restaurants and bars as well.
For lunch Libby ordered the house salad.  A large salad of the usual greens, etc.
I ordered the "Big City Reuben."  I knew the sandwich was going to be big so ordered it without any of the sides it came with.
So, the waitress asked Libby is she wanted a side with her salad and Libby thought about it and said "what the heck, we'll share the onion rings."
For our beverage, we ordered our favorite of their beers, the "Mountain Light."  It's a really good lager.
Libby realized when the salad was served that she had forgotten to tell the waitress she did not want any cheese on it.  We have learned that shredded cheese is served on just about any salad with greens here in East Tennessee.  It appears to be the local custom.  So, she scraped the cheese off.
Libby reports that the salad was quite good.
My Reuben was one of the best I have had in years!  Normally, when I order a Reuben, I order it with the sauce on the side.  Too often they go way overboard with too much sauce.  I forgot to do that this time, but it did not matter.  It had just the right amount of sauce and sour kraut and was really delicious.
The onion rings were another matter.  They were limp and swimming in oil.  The taste was O.K. but far from the crisp onion rings they should have been.  We only ate a few each.
Of course, I could not finish the sandwich and took part of it home.
All in all, it was a very nice lunch.
Oh yes!  The beer was great!
Address of the Smoky Mountain Brewery
11308 Parkside Dr.
Knoxville, TN 37934
(865) 288-5500
Location:
We visited the West Knoxville location in Turkey Creek. The also have locations in Maryville, Pigeon Forge, and Gatlinburg.
They are located just across from Regal Cinema's Pinnacle 18 and next door to Calhoun's restaurant on the corner of Parkside Drive and Turkey Cove Lane.
Website
Main https://smoky-mtn-brewery.com/
The Turkey Creek location https://smoky-mtn-brewery.com/locations-menus/turkey-creek/
Facebook Page https://www.facebook.com/smokymtnbrew
Hours Of Operation
Sun – Thur 11am – 12am
Kitchen Closed @ 11pm
Fri – Sat 11am – 12am
Kitchen Closed @ 11:30pm
Asia Kitchen
Asia Kitchen offers delicious dining and takeout to Knoxville, TN. They specialize in Asian fusion, Chinese, and Vietnamese food.
You'll experience delicious Asian, Chinese cuisine. Try our mouth-watering dishes, carefully prepared with fresh ingredients!

At Asia Kitchen, our recipe for success is simple – great food & care makes customers return every time. – Asia Kitchen
Asia Kitchen is in a supermarket strip mall. In fact, right next door to the restaurant is the Sunrise market, an Asian supermarket.
On entering the Asia Kitchen, we could see right away we had made a good decision. The restaurant was much bigger inside than it seemed from the outside. Everything was clean and in good condition.
Also at the far end of the dining area was a big screen T.V. with what looked like Chinese cooking programs. The sound was muted but there were subtitles in Chinese.
What We Like about the Restaurant
We really liked the ambience! In the middle of the larger dining area was a row of round group dining tables with the big Lazy Susan in the middle. Just like they have in Chinatown in San Francisco and Oakland!
The service was quick and very professional.
What We Ate During Our Visit
We decided to try a couple lunch special dishes and if those were good, we would order more items to take home.
Libby ordered the Roast Duck, and I ordered the Shrimp with Mixed Vegetables.  With the meals came our choice of rice, wonton, and soup.  We both chose steamed rice, crispy wonton and hot and sour soup.
Everything was extremely fresh.  Also, large portions.  Our favorite Chinese duck dish is Crispy Duck but that is very hard to find as it is a difficult dish to prepare.  So, Libby tried the Roasted Duck.  It was good, but a bit tough.
My Shrimp and Vegetables was delicious.  Libby's vegetables with the duck were delicious as well.
The hot and sour soup, though very good, was not as hot as we like.  We suspect the restaurant's clientele prefer it that way.  We knew we could spice it up if we got takeout, so that is one of the dishes we ordered to take home.
We also ordered Kung Pao Chicken and Szechuan Shrimp.  And we took home what we could not finish from lunch.
We ate all that up that night and the next night with still a little left over for lunches. 🥡
Address of Asia Kitchen
8511 Kingston Pike, Knoxville, TN 37919
Phone: 865-670-9858
Hours:
Monday   11:00AM – 9:30PM
Tuesday   Closed
Wednesday – Sunday 11:00AM – 9:30PM
Location:
West Knoxville
Website
What kind of activities are popular with the locals in Knoxville?
University of Tennessee (Volunteers)VolunteersTennessee adopted the name Volunteers, or more commonly Vols, because of a now-official nickname that Tennessee received during the War of 1812, the Volunteer State. sports are one of the most popular activities in Knoxville. The university is called "UT" (you tee) by locals. Major sports include football and basketball along with the U.T. baseball team. The women's basketball team, "the Lady Vols" is particularly beloved. The football stadium seats well over 100,000 and is always sold out. Go Vols!
Dining out is popular. There are an incredible number of eating establishments here.
Outdoor activities are popular and include water sports, boating fishing, hunting, hiking, camping, etc.
Nascar racing is huge here. A couple places where they race are Bristol Motor Speedway, north of Knoxville, https://www.bristolmotorspeedway.com/ and
Nashville Superspeedway, near Nashville https://www.nashvillesuperspeedway.com/.
What is there to do for Tourists?
The Great Smoky Mountains National Park is not far. Known for its spectacular views, wildlife, wildflowers, waterfalls, and more. There's plenty to do there. Camping, hiking, white water rafting, fishing, bird watching and more. Gatlinburg is in the park and is a huge tourist attraction
Gatlinburg is a mountain town in eastern Tennessee, known as a gateway to the roughly 520,000-acre Great Smoky Mountains National Park. Many of its key attractions offer sweeping views of the neighboring park, including the 407-ft. Space Needle observation tower and the Sky Lift, a 2.1-mile aerial cable car that journeys from Downtown to the popular amusement park and ski resort Ober Gatlinburg. 
Not far away is Dollywood, which is in Pigeon Forge. A great family fun area! Water slides, music, "goonie golf," which is what they call miniature golf here. There are an incredible number of goonie golf courses!
In addition, the Knoxville area is honeycombed with civil war sites and attractions.
About the Greater Knoxville Area
Downtown Knoxville has a very lively art and food scene. Market Square is big, a great place to be for outdoor concerts, and a tremendous selection of restaurants, bars and shops of all kinds located right in the square of within easy walking distance.
Locals know Knoxville is one of the best cities for pets. Especially dogs. Besides being welcoming place for dogs, there are almost 100 veterinarian practices and many, many boarding facilities.
There are many beautifully maintained and well sized dog parks all around Knoxville and in adjoining communities.
FAQs – Frequently Asked Questions about Knoxville, Tennessee
Q. How far is Graceland from Knoxville?
A. Graceland is in Memphis on the Mississippi River. It's about 390 miles from Knoxville. It takes approximately 6h 29m to drive from Knoxville to Graceland.
Q. How far is it to Nashville from Knoxville?
A. Knoxville is about 180 miles from Nashville when traveling along I-40. It takes approximately 2 hours and 40 minutes to travel between the two cities along the most direct route.
Q. How far is it to Dollywood from Knoxville?
A. Dollywood is about 35 miles from Knoxville in the town of Pigeon Forge. Pigeon Forge is where Dolly Parton grew up and still lives. The trip will take about 50 minutes via I40 E. Dollywood is currently the #1 attraction in Tennessee.
Q. What are The Best Things To Do in Tennessee
Visit Dollywood
Visit The Smokies: The Great Smoky Mountains National Park
Visit Elvis Presley's Graceland
Visit the Grand Ole Opry and Opry Museum
Visit the Tennessee Aquarium
Visit The Hermitage: President Andrew Jackson's Home
Visit the Memphis Zoo and Aquarium
Visit the Country Music Hall of Fame and Museum
Additional Resources
Coming soon.
---