Updated May 22, 2023
Greetings from Farragut, Tennessee!
Farragut Tennessee is a charming suburban town known for its parks, trails, shopping, and dining. 🏔️
Farragut is located in Knox and Loudon counties in the State of Tennessee. The town's population was 23,506 at the 2020 census and it's included in the Knoxville Metropolitan Area.
The town is named in honor of Union Admiral David Farragut, who was born just east of Farragut at Campbell's Station in 1801, and fought in the American Civil War.
The Community of Farragut, Tennessee
Neighborhoods
Coming soon.
History
History of the Farragut Area – Civil War Hero and America's First Admiral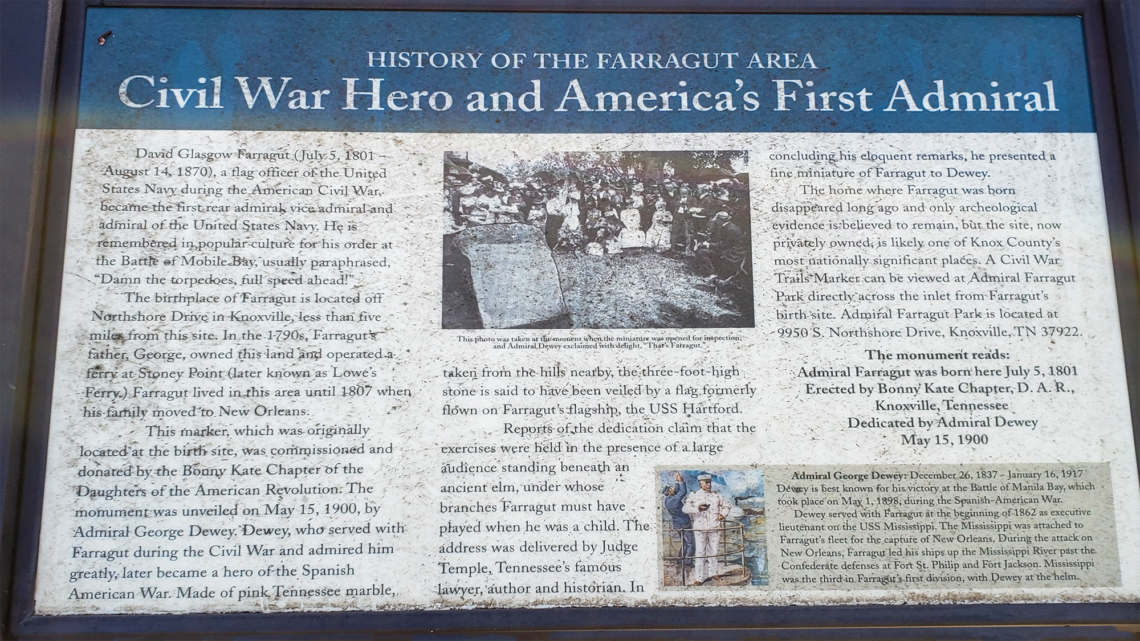 Although it's a bit hard to read, you can get the gist of the history of the Farragut area from the image above.
The area was originally known as Campbell's Station after a fort and stage coach station erected by Captain David Campbell (1753–1832) in 1787.
The brick Campbell's Station Inn was built in 1810 and still stands on Kingston Pike within sight of the Farragut Town Hall.
The Civil War Battle of Campbell's Station was fought there on November 16, 1863.
Civil War history includes the Battle of Campbell Station, which took place on Nov. 16, 1863, and was fought on land surrounding the Farragut Town Hall.
This decisive battle involved Burnside's Union forces defeating Longstreet's Confederate forces as they marched toward Knoxville.
The historic unincorporated village of Concord (listed on the National Register of Historic Places) was founded in 1854 just east of what would become the eastern boundary of Farragut.
Concord is located on the main rail line to Atlanta and main channel of the Tennessee River, and was an important transloading center for the Tennessee marble industry in the late 19th century.
Picturesque buildings and antebellum homes sit along the river, as well as several very old churches.
The original Farragut High School was built by the community in 1904, and moved to its current location in 1976.
Some parts of Farragut are zoned for Hardin Valley Academy in the neighboring suburb of Hardin Valley, built in 2008.
In early December 1979, the Knoxville City Council would vote to annex right-of-way acreage of I-40 in the Farragut area, prompting community residents to petition an incorporation election.
On January 16, 1980, Farragut would vote to incorporate as a town preventing further annexation by Knoxville, which was trying to shore up its tax base by annexing affluent communities along Kingston Pike.
The effort was led by a group of citizens who called themselves the Farragut Community Group. The first mayor, Bob Leonard, was elected April 1, 1980, along with four aldermen.
Alderman Eddy Ford became mayor in 1993 and served in that position until April 2009, when he failed to win re-election, losing to Dr. Ralph McGill, another of the original founders of the town government.
Farragut, TN Real Estate Trends as of June 2022
Affordability of Living in Farragut, TN
The typical home value is $635,901
Homes are typically worth $210/sqft
Average Home Value in Farragut, TN, by Home Size
| | |
| --- | --- |
| Home Size |  Home Value |
| 1 bedroom | N/A |
| 2 bedrooms | $370,851 |
| 3 bedrooms | $506,419 |
| 4 bedrooms | $680,746 |
Current Market Statistics
730142.38,622437.67,744755.69,747163.38,725325.00,731453.85,761281.82,778692.31,808650.00,854057.14,942820.00,1167400.00
Information is deemed to be reliable, but is not guaranteed. © 2023
Listings in Farragut, Tennessee
The data relating to real estate for sale on this Web Site comes from the IDX Program of the Knoxville Area Association of REALTORS® Multiple Listing Service. © Copyright 2020 All rights reserved.IDX information is provided exclusively for consumers' personal, non-commercial use, it may not be used for any purpose other than to identify prospective properties consumers may be interested in purchasing, and that the data is deemed reliable but is not guaranteed accurate by the MLS. This information is updated weekly, however, some of these properties may subsequently have sold and may no longer be available. The Real Estate Broker providing this data believes it to be correct, but advises interested parties to confirm the data before relying on it in a purchase decision.
---
---
Geography
Farragut is located at 35°52′39″N 84°10′25″W (35.877511, -84.173548).
According to the United States Census Bureau, the town has a total area of 16.2 square miles (42.1 km2), of which 16.1 square miles (41.7 km2) is land and 0.2 square mile (0.4 km2) (1.05%) is water.
The town of Farragut is bound to the north by I-40/75, except at Campbell Station Road, Snyder Road, and the Outlets Drive area; to the south by Turkey Creek Road and the Norfolk Southern Railroad line; to the west at the Loudon County line; and to the east by Lovell Road (on the north side of Kingston Pike and Thornton Heights) and Concord Hills subdivisions (on the south side of Kingston Pike).
Farragut is situated in a hilly area between Blackoak Ridge to the north and the Tennessee River (Fort Loudoun Lake) to the south.
Its municipal area is mostly located south of the merged Interstate 40 (I-40)/I-75, with the exception of a few neighborhoods. Kingston Pike, a merged stretch of U.S. Route 70 (US 70) and US 11, traverses the town.
Concord lies immediately southeast of Farragut, and Hardin Valley lies opposite Blackoak Ridge to the north. The unincorporated community of Dixie Lee Junction lies along Kingston Pike, just across the Loudon County line.
Avery Russell House
The Avery Russell House, also called the Martin-Russell House or the Campbell Station Inn, is a historic home located at 11409 Kingston Pike in Farragut, Tennessee, United States.
The Federal-style two story brick structure was built by Samuel Martin as an inn around 1835, on the site of David Campbell's 1787 blockhouse.
Just before the Civil War, the inn was sold to Avery Russell, who then used it as a family residence.
It remained in the Russell family for six generations. During the Battle of Campbell's Station in 1863, the house served as a temporary hospital.
Although it has had several alterations, the house remains an example of rural East Tennessee architecture. It is listed on the National Register of Historic Places.
Parks and Recreation
Admiral David Glasgow Farragut Statue at the Farragut Folklife Museum
"Damn the torpedoes, full speed ahead."  – Admiral David Glasgow Farragut
In March of 2022 Libby, Ken, and our dog Barbie visited the museum and the Admiral Farragut Statue. You should definitely check out the museum if you are in the area. You can find out more about it at https://www.townoffarragut.org/186/Farragut-Museum.
Dedicated in 2010, the Farragut Memorial Plaza features a life-plus sized bronze statue, Civil War era cannons on loan from the U.S. Naval Yard, and historical markers with information about Admiral Farragut's life. It's incredible to see close up.
The history of Farragut is fascinating! I bet you've hear the phrase, "damn the torpedoes, full speed ahead". Yes, that was Admiral Farragut.
The museum and plaza are at:
11408 Municipal Center Drive
Farragut, TN 37934
More Parks and Rec
There are a number of parks open right now, with more planned in the near future. Click on the thumbnail image to view the full-sized park image.
Anchor Park
Founders Park
Mayor Bob Leonard Park
McFee Park
Parks/Greenways/Sidewalks Map
FAQs – Frequently Asked Questions about Farragut, Tennessee
Q. Is Farragut Tennessee a good place to live?
A. Farragut is in Knox County and is one of the best places to live in Tennessee. Living in Farragut offers residents a rural feel and most residents own their homes. Many retirees live in Farragut and residents tend to lean conservative. The public schools in Farragut are highly rated.
Q. What is Farragut Tennessee known for?
A. Civil War history includes the Battle of Campbell Station, which took place on Nov. 16, 1863, and was fought on land surrounding the Farragut Town Hall. This decisive battle involved Burnside's Union forces defeating Longstreet's Confederate forces as they marched toward Knoxville.
Q. Does Farragut TN have property tax?
A. The Town of Farragut does not have a municipal property tax. Farragut residents pay the same property tax as other Knox County residents, $2.32 per $100 of assessed property value. Property is assessed at 25% of the residential market value and 40% of the commercial market value.
Details about Farragut, Tennessee
It has an elevation of 873 ft
Population (in 2020) is 23,506, with an estimate (in 2021) of 23,778
The time zone UTC-5 (Eastern (EST)) and in Summer (DST) UTC-4 (EDT)
The ZIP codes are 37922 and 37934, and the Area code is 865
United States admiral David Farragut (1801-1870) who commanded Union ships during the American Civil War.
Additional Resources
Find out more about the town of Farragut at https://www.townoffarragut.org/
Find our more about Farragut parks here.
Farragut Tennessee on Wikipedia.
---